Simplify web development
A library of website components with easy content management.
Manage content, code & more with a dashboard.
Add components to any website.
Works with any platform or language.
Simple copy & paste setup
A snippet of code expands to a component.
(The example shown here is a live component.)
Try it free
More than just content
Components are customizable for any need. For example, a team page:
Save time.
Make edits quickly without having to change your code or re-deploy every time.
For everyone.
Technical and non-technical team members can work together easily in the dashboard.
Custom or pre-built.
Customize your code for any purpose, or use our library of pre-built components. Or do both.
Customize your component code
Edit the HTML, CSS, and JavaScript to build fully custom components.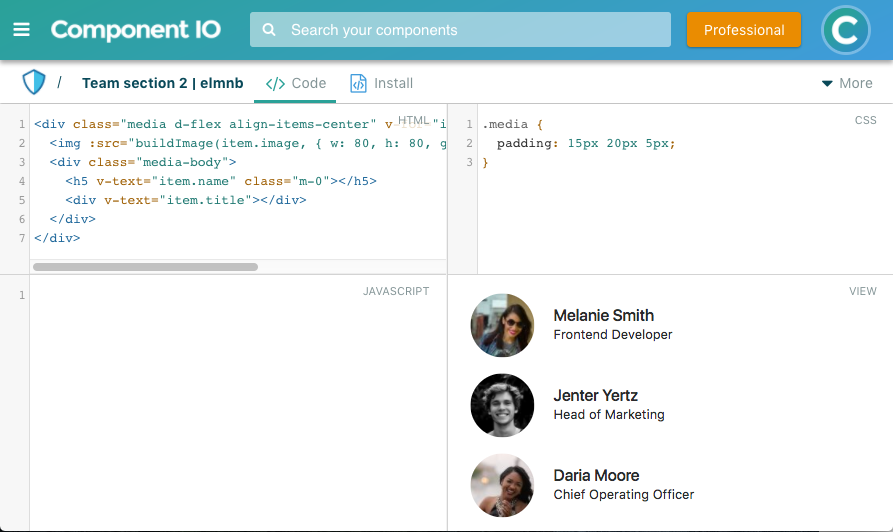 Get started
Fast & cached.
Components are cached and auto-delivered by a single API call. Images are auto-resized and sent from a global CDN.
Secure.
Multi-level user auth with rotating keys; XSS escaping and secure cookies; SHA256 + RSA-2048 encryption for all requests.
Reliable.
Infrastructure built for enterprise and available to all. Regular data backups on redundant AWS hardware.
Let's build something great.
Simplify Web Development
Sign Up
By signing up, I agree to the